CNI Advantage, LLC builds new headquarters for Tishomingo National Wildlife Refuge
CNI Advantage, LLC recently designed and constructed a new headquarters and shop building for the Tishomingo National Wildlife Refuge after the original headquarters was lost due to flooding back in 2015.
The new 4500 ft2 headquarters and 60' x 90' shop building is made up of eight offices, a break room, storm shelter area (restrooms), visitor contact area, minimal interpretive exhibits, classroom space for 70 students, security separation between office and visitor spaces, visitor & staff parking lot, and other related site improvements.
The exhibits were designed to be self-guided and interactive to convey the options and experiences available at the Tishomingo National Wildlife Refuge, and to help answer common questions asked by visitors.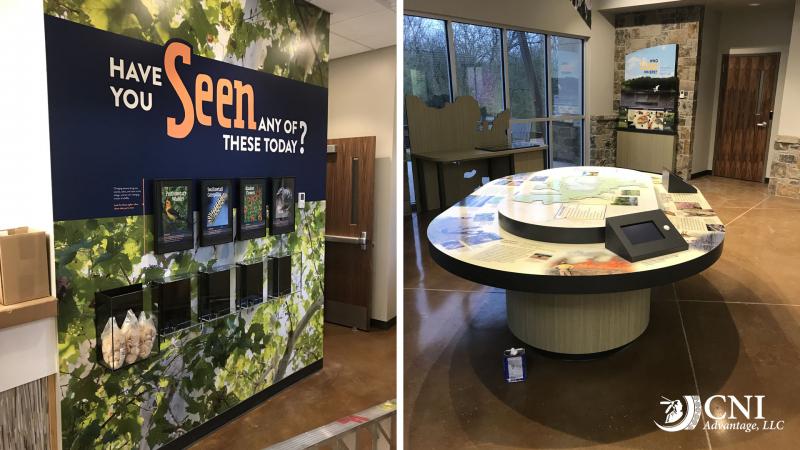 Tom Ketcham, Contracting Officer with the Fish and Wildlife Service, highlighted the effort of Site Superintendent, Wayne Layell, in delivering the project ahead of schedule and amid the COVID-19 pandemic.
"I commend the leadership and drive of Wayne to make this project not only successful, but to ensure our customer (Tishomingo Refuge) was happy with the end result," said Ketcham. "The work exceeded the original timeline and it was done during one of the toughest times of the decade, if not the century, for our country and the world in general."
In order to meet the required LEED Silver Certification, the design had to include energy efficient mechanical, electrical and plumbing systems designed to promote a healthy working environment. The building will be registered under LEED v.4.0 and credits will be selected to align with LEED v.2009 credits indicated to be required in the Fish and Wildlife Service (FWS) Sustainability Checklist.
CNI Advatnage, LLC offers innovative, creative and focused logistics subject matter expertise and solutions in a number of areas. For more information about CNI Advantage, visit www.cniadv.com.